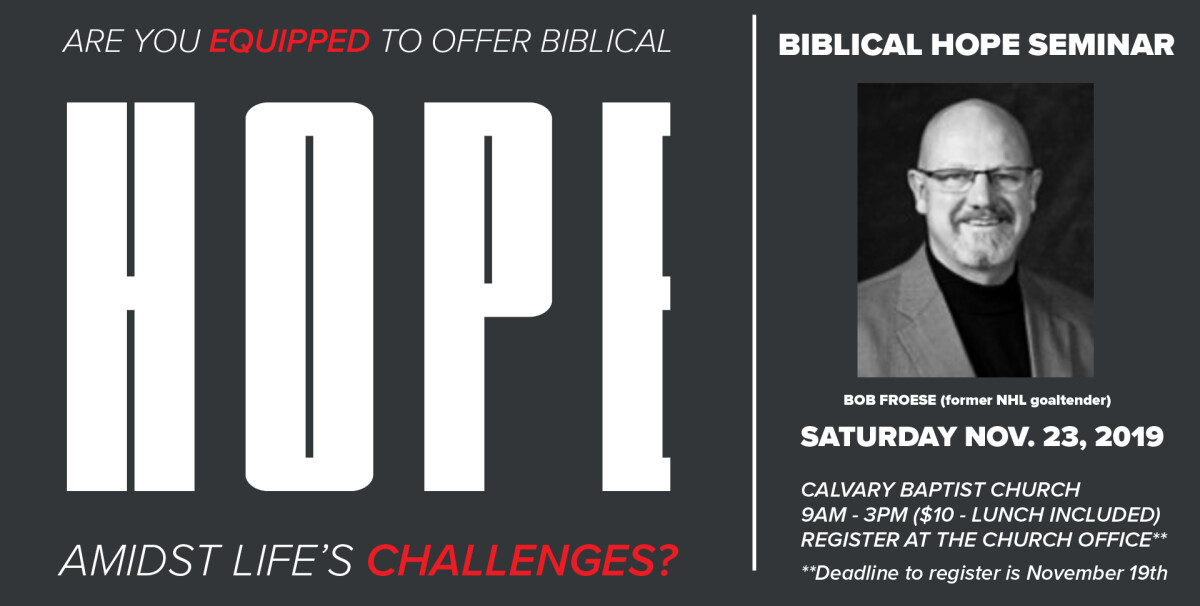 Saturday, November 23, 2019, 9:00 AM - 3:00 PM
Are you EQUIPPED to offer Biblical HOPE amidst life's challenges?
BIBLICAL HOPE SEMINAR
Register at the church office or by using this link:
https://calvaryon.infellowship.com/Forms/430909
Cost includes lunch
Deadline to register is November 19th!
Inline with our Discipleship Essentials is equipping ourselves to biblically care for one another and those in our circle of influence.
We are happy to be hosting a Biblical Hope Seminar with former NHL goaltender Bob Froese where the following topics will be covered:
1. Hope-filled Soul-Care
​In this brief overview of biblical soul-care, learn to prioritize God's purposes with a view to human responsibility while recognizing the necessity of Scripture, prayer, and Holy Spirit.
2. What does the Church have to do with Biblical Soul-Care?
​
Discover how the Bible teaches us to make personal investment in lives at the heart level, and how the ministry of God's Word through biblical soul-care is central to His plan for church.
3. Biblical Soul-Care and Counselling Theories
​Consider historical psychological and integrated theories in comparison to biblical soul-care from a standpoint of God's Word as sufficient and authoritative.
4. The Process of Change that Brings Hope
​Discover how to view guilt and shame from a biblical perspective, and learn God's process for change (5 C's) that eternally move from shame to hope.


5. Hope through Forgiveness
​Learn why forgiveness matters, a biblical definition of forgiveness, 4 promises of forgiveness, the dangers of not forgiving biblically, and the difference between attitudinal and transactional forgiveness.
6. Break out Sessions:
​Men - Men as Protectors
Women - Depression and Biblical Soul Care for women
​Bob Froese played in the National Hockey League from 1981/82–1991/92. His goaltending for the Philadelphia Flyers earned him the William Jennings trophy and a spot on the NHL All Star Team (85/86).
In 1987 he played for the Canadian World Championship team, adding a shutout against Russia to his 13 NHL shutouts. After being traded to the New York Rangers where he played for 4 seasons, he coached goal until becoming player relations liaison for the New York Islanders. He has served as senior pastor of Faith Fellowship Church for 24 years, having earned his Ph. D. in Biblical Counseling from Trinity Theological Seminary and his M.A.R. in Pastoral Counseling from Liberty Baptist Theological Seminary.
As well, he directs the Faith Fellowship Biblical Counseling Center (FFBCC) and the Fellowship of Biblical Counselors (fbcounselors.com).
Ruth Froese directs Women's Counseling at FFBCC, holding an M.A. in Biblical Counseling from Trinity Theological Seminary and working towards an MDiv in Biblical Counseling through Southern Baptist Theological Seminary.