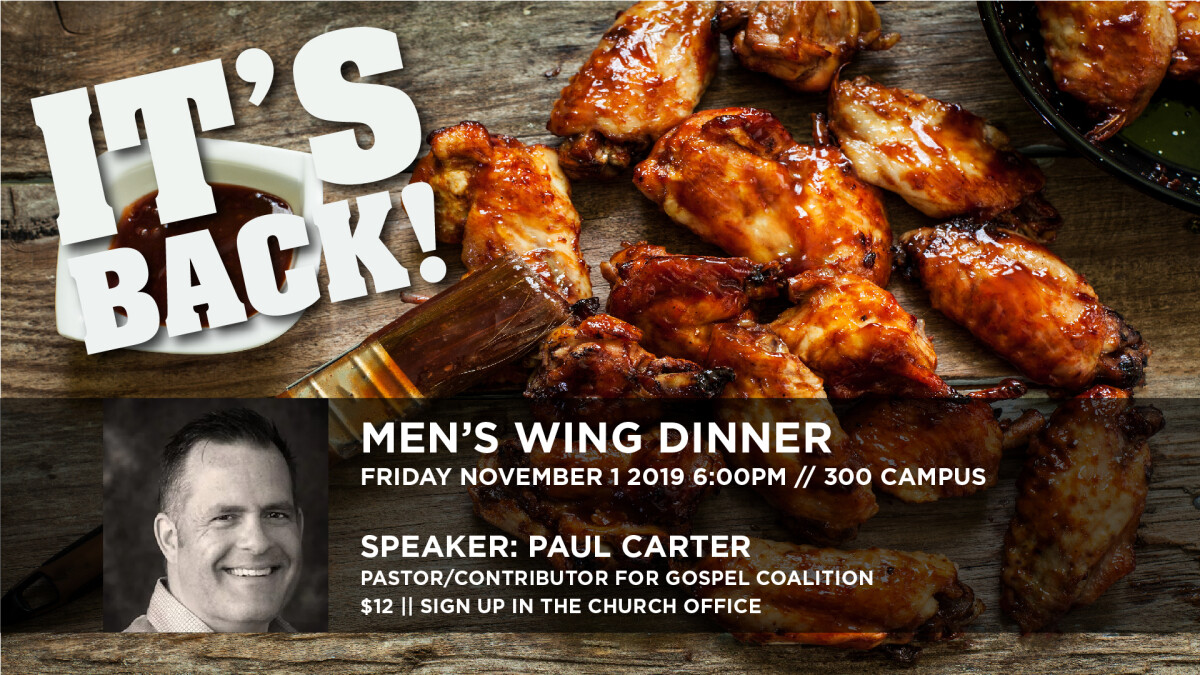 Friday, November 01, 2019, 6:00 PM - 8:00 PM
Invite your friends to come and hear a great message as we join together for a night of wings and fellowship at the 300 Campus.
$12.00/person - please sign up at the church office or sign up here:
https://calvaryon.infellowship.com/UserLogin/Index?ReturnUrl=%2fForms%2f430497
Paul is the happy husband of Shauna Lee and the proud papa of 5 beautiful children, Madison, Max, Mikayla, Peyton and Noa. He attended Moody Bible Institute and is a graduate of York University (B.A.) and McMaster Divinity College (MDiv). He has been in pastoral ministry since 1994, serving in both Fellowship and Canadian Baptist churches in Oakville, Mississauga and Orillia, Ontario Canada.
He presently serves as the Lead Pastor of First Baptist Church, Orillia, a large multi-staff church with a passion for biblical preaching and local mission. Along with his friend Marc Bertrand he is the co-founder of the Covenant Life Renewal Association (CLRA) seeking Biblical and Spiritual revival within Canadian Baptist Churches. He also serves on the Executive Council of the TGC Canada board.
Paul has written two books and is a frequent blogger on issues of Christian faith and living. He is the host and Bible teacher on the Into The Word podcast which you can find on iTunes or here on the TGC C website under the podcast tab. Connect with him on Twitter using @pastrpaulcarter.